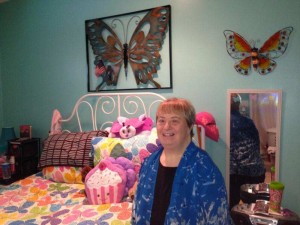 Angie moved into our Wingspan home on 11th Avenue in August of 2012. She loves butterflies, and her bedroom and bath are beautifully decorated to reflect her interests and bright personality. To our delight, she joined our Glee Club this Fall and her lovely voice is a pleasant addition. She has also demonstrated leadership in our Monday night classes at MacPhail Center for Music by being fully participatory and welcoming. She is quick to support her classmates with a word of encouragement. Angie is truly in her element when she is at Glee Club. Her smile shines brightly and her warm personality fills the room; she is attentive and eager to learn.
Family is very important to Angie and she enjoys talking on the phone or getting together with her sisters Irene and Janice, other family members, and friends. She also enjoys visiting her apricot poodle, "Sunshine," likes hanging out at the American Legion with her sister, and participating in Bingo and meat raffles. Angie enjoys music of all kinds-particularly musicals. One of her favorites is "Mamma Mia." She also enjoys a variety of movies, and appreciates the many opportunities to participate in special events and outings at Wingspan. Encouraged by her staff and family, Angie has proudly lost 50 pounds since moving to 11th Avenue. She understands the health and wellness benefits of good nutrition and exercise, and she is able to enjoy a better energy level as a result. Angie has worked with Lifeworks for 25 years. She loves dancing, getting ready for dates, loves to do her hair and nails and go shopping for new clothes. She even enjoys helping around the house! Angie participates in Wingspan's bowling and softball leagues, our summer picnic, our Magnolia Ball for adults with disabilities, our holiday party with Santa, and more. We do all that we can to make certain that Angie lives life to the fullest.
Donors like you help us to go above and beyond to provide Angie and others with safe, accessible homes, transportation, caring staff, and programs that inspire confidence, allow unique talents to shine, improve well-being, and build lasting friendships.
Please mail your Give to the Max Day donation to Wingspan at 30 East Plato Blvd., St. Paul, MN, 55107 or simply use the link below. Giving to a great cause is easy!
Thank you for caring-to-the-MAX,
Therese Davis
Executive Director