Asha joined our Wingspan Family at 16th Avenue house in July of 2021. Though blind since birth, she is always open to trying new things and leads a full and busy life. Asha swims on a Special Olympics team, likes to exercise daily, and loves to do looming and puzzles. She is a natural leader and has gotten her housemates involved in doing games and puzzles together after dinner. Asha also enjoys going to the library to get books on tape. She loves to cook, reads recipes in braille, and particularly enjoys spicy food of her culture. She cooks for her housemates on Saturdays, gets input from her housemates, and adds necessary items to the weekly grocery list. She loves gardening, and last year her mom bought her rose bushes which she tends along with other flowers. Asha goes to work through her day program at Opportunity Partners.
In the Spring of 2022, Asha participated with many other Wingspan clients in two classes offered through a partnership with Compas.org. She excelled in both the Drum Circle Class and in the Mosaic Class. We are inspired by Asha and her many interests and talents.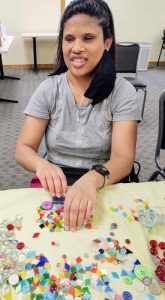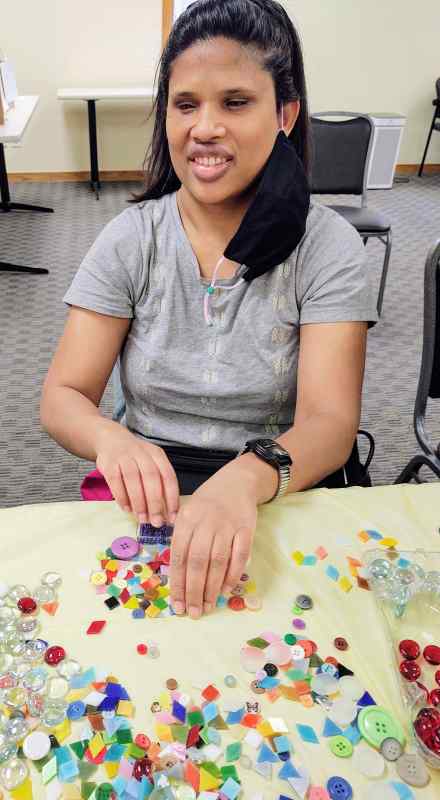 Jenny is One of Many Talented Artists in
Wingspan's Glee Club
The Wingspan Life Resources mission is to help the people we serve to realize their own unique gifts, talents and dreams. We do that by empowering each individual's to develop their own unique gifts, talents and dreams.
Since Wingspan's partnership with MacPhail Center for Music in 2013, more than 65 clients and staff have had an opportunity to participate.  Glee Club has performed many times, including at Wingspan galas with such guest artists as Twin Cites jazz vocalist Patty Peterson, rock celebrity Kat Perkins, violinist/vocalist Gaelyn Lea Tressler, gospel virtuoso Robert Robinson, and folk artist/performer Rachael Kroog. Today we'd like to introduce you to one of our charter members--Jenny from our Glenpaul House.
Being a fun and vivacious young woman, it's no surprise that Jenny loves to sign / sing and perform with Glee Club. Of the 20 or so current members, she is the only one who is Deaf and interprets songs with American Sign Language (ASL). At Wingspan's Country Western Variety Show held April 8 at MacPhail Center for Music, Jenny interpreted John Denver's "Country Roads" for the enthusiastic and appreciative audience. This free concert helped celebrate Wingspan's 45th anniversary and also included guest performers The Lowland Lakers, an audience singalong, and an air guitar contest.  Jenny also performed the song at the "Wingspan's Got Talent" show in late April.
"It's really fun to be on stage. Everybody in Glee Club is really nice and we have a lot of fun together," said Jenny who is 58 and communicates primarily through ASL, although she also reads lips and speaks. Jenny has made many friends in Glee Club!
Jenny often helps lead the group in warm-up exercises including "beat boxing." She is also the featured ASL soloist during concerts.  Jenny always puts passion and hard work into her performances.  She was awarded "Best Sweetheart" this season by MacPhail's Music Therapist/Director, Colin Doherty.  Congratulations to Jenny for focusing on her ability and for being a wonderful leader.
Jenny works with Rise's Day Training and Habilitation Sensory Support unit at the Spring Lake Park production facilities (we thank Rise for featuring similar excerpts in their online news). Her twin sister, Julie, is also Deaf and lives at Wingspan's Colfax House. Julie participates in Community Involvement Programs' MARI (Music, Arts, Recreation, and Inclusion), a nonvocational, retirement day service.  In her free time, Jenny enjoys putting together jigsaw puzzles, working on her computer, and going for walks.
Your support surely helps us to continue to empower abilities.