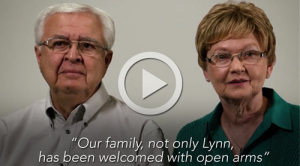 "Our family, not only Lynn, has been welcomed with open arms." Read More
Darlene & LeRoy Bergerson
---
"My sister, Angela, is a proud member of the Wingspan Life Glee Club.  It has enriched her life, and helped her build confidence, by giving her the chance to do what she likes best…. singing, entertaining, and meeting new people. Since she has joined she … Read More
Irene Kangas, family member
---
I recently had an opportunity to meet with Hmong elders at the Tsev Laus Kaj Siab Adult Day Program. I was very touched by their dignity and their very humble appeal for help.
Senator Ellen Anderson
---
We were treated beautifully by Sharron and the residents, and we loved having the opportunity to interact with them. They made a special point of coming out, dressed in their finest, to thank us before leaving to attend a wedding. They were gracious, cheerful and … Read More
Elaine Grittner, volunteer painter
---
It is such a wonderful feeling for me to know that Liz is so content in her home. I know when I go to visit and take her out, she is glad to see me, but the best part is knowing she is always so … Read More
Ann Cibulka, family member
---
I want you to know grateful I am for your assistance as well as for the wonderful service you consistently offer our clients.
Mary Morehouse, Manager, DD Services
---
Our sister Liz is the happiest she has ever been in her whole life and it is all due to Wingspan's work and the love and care given by your wonderful staff in each residential setting.
John Duffy
---