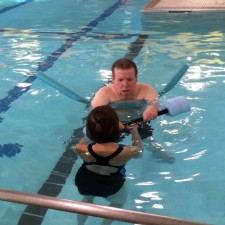 nurturing
Our Worries for Paul's Care Have Disappeared
The Wingspan Life Resources mission is to help the people we serve to realize their own unique gifts, talents and dreams. We do that by empowering each individual's to develop their own unique gifts, talents and dreams.
For most of his 60 years, Paul lived at home and was lovingly cared for by his parents, Dick and Julia, and brother, John.  As his mom and dad grew older and began to experience health issues, they spoke regularly about their mutual concern for "Pauly's" future. This is a common anxiety among families who have been long-term primary caregivers of children with disabilities. Sadly, Mom passed away in the Spring, 2013, and Dad was placed in a nursing home about six months later.
Paul continued living with younger brother John, who then found himself adjusting to the "new normal" of life without mom, visiting dad, managing his own consulting business, and caring for Paul.  Some long-overdue luck smiled upon the family when they were referred to Wingspan later that year.
In December, 2013, Paul moved into Wingspan's Colfax House–a home he shares with Pam, Kathy and Julie.  In a beautiful letter to staff shortly thereafter, his father wrote:
"When I visited Paul last week any anxieties I might have had disappeared. Paul seemed perfectly comfortable in your living room.  He gave the impression, in fact, that he belonged there.  When Paul's mother died in March, she had worried more than anything else about Paul's welfare without her. Thanks to your help, she need not have worried."
When Paul first moved in, staff were attentive and observant during the period of adjustment. Initially, they often discovered Paul wasn't sleeping in his bed downstairs, but would come upstairs instead and roam from chair to chair throughout the night. As a result, he was not get enough rest. The Colfax Team tried a new approach and converted an upstairs office to a cute and cozy new room for Paul.  Within a short period of time, Paul was sleeping in his bed and is now getting a full night's rest.  He seems to enjoy his new room where he can see his favorite belongings from his childhood displayed on shelves. His name is spelled out in big wooden letters on his bookshelf.
Wingspan's staff have empowered and nurtured Paul in many ways—from helping him shower and dress to making sure he gets to his day program at Chrestomathy, Inc.  He enjoys shopping, sitting in his favorite living room chair to watch Curious George and Thomas the Train, and he receives a warm welcome at the end of the day when his housemates come back from their day programs. They gather for dinner and perhaps build puzzles together later to relax.  Staff members take Paul to swimming classes-one of his most favorite activities.  Paul enjoys visits from his brother John and sister Shelley, and has opportunities to see his father, Dick, a former English professor at the University of Minnesota. Dick misses his son terribly and occupies his time writing poetry and novels.  Son John and Wingspan staff visit Dick to let him know how well Paul is doing at Colfax house.
We cherish Paul and his family as well as all families we are so privileged to serve. Your generosity helps us go above and beyond to provide a place to call home.