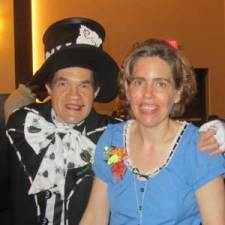 caring
People We Serve
Wingspan Life Resources is licensed by the state of Minnesota to serve over 100 individuals between its 26 residential homes. Residents range in age from 18 to 103 years old, and in the past several years our residents have become younger with more people in their 30s, 40s and 50s. The functional level or our residents ranges from profoundly to mildly disabled.
Wingspan Life Resources residents have a wide variety of mental and physical challenges. Beyond their developmental disabilities, the great major of our population has a dual diagnosis for other disorders including: schizophrenia, schizoaffective disorder, bipolar disorder, depression anxiety disorder, borderline personality disorder, explosive personality disorder, depression with psychotic features, atypical affective disorder, autism, Alzheimer's Disease, Down's syndrome, Traumatic Brain Injury and cerebral palsy, to name some of the more common conditions.
Beyond these mental disorders, some of our residents also suffer from physical disorders such as: deafness, blindness, impaired or total immobility and diabetes.
The many disorders coupled with physical impairments and the wide age range makes it a real challenge for direct care staff who not only have to provide physical help as required but must also dispense numerous medications and injections and recognize changes in residents' mental and emotional states. This places significant responsibility on the shoulders of direct care staff
Stability and continuity are very important to people with developmental disabilities. Wingspan's residential program is a place for adults to call home from the time they enter one of our homes through hospice care if needed. Although people with developmental disabilities can now expect to live a long life, many experience major changes in health, function and psycho social status at much earlier ages than people who are not disabled. They show early signs of medical, functional and psycho social changes typically not experienced by persons without disabilities until much later in life. Persons with development disabilities, such as Downs Syndrome for example, have a 15 – 40 percent greater prevalence of early-onset Alzheimer's disease which occurs 15 – 20 years earlier than the general population.