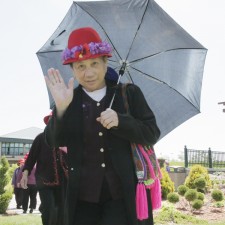 empowering
Tsev Laus Kaj Siab
Wingspan Life Resources' "Tsev Laus Kaj Siab" center is a culturally specific, licensed adult day program for individuals from the Hmong community who are elderly, isolated, frail and/or disabled. The name "Tsev Laus Kaj Siab" refers to a place for elders where there is freedom from stress and worry. This relief from stress is not only for participants, but also for family caregivers who take comfort in knowing there is a safe place for their older loved ones while they work during the day.
Tsev Laus Kaj Siab is centrally located in St. Paul, and serves individuals primarily from Ramsey, Hennepin, Washington and Anoka counties. Tsev Laus Kaj Siab helps create a bridge between the Hmong and American cultures. The program is designed to promote the health and well-being of those attending and assists in overcoming language and cultural barriers to health care and services. Services include:
Staff with Hmong language and cultural expertise
Health monitoring and education
Assistance with medical appointments
Physical activities such as structured exercise, walks on nature paths and playing pool
Hmong preferred meals and snacks
Social, recreational and craft activities
Seasonal gardening
Field trips, community activities and celebrations
Support for the attainment of naturalized citizenship status
Assistance with transportation
For more information you may call: Eric Hemme, Program Director, 651-242-5849 or Joua Pao Her, Site Director Tsev Laus Kaj Siab 948 Rice Street St. Paul, MN 55117 651-488-2768, or use our contact form.