Made in the Shade Minnesota is an annual fund raising events for non-profit agencies serving people with disabilities. Just register and gather pledges to support your fund raising trek. This walk, roll and run event starts at Thomas beach on Lake Calhoun. As the title states, you can walk, run, or roll the 5k (three mile) trail around Lake Calhoun.
Made in the Shade is sponsored by 8 participating organizations, including Wingspan Life Resources. Staging a joint event spreads out the costs associated with organizing the event so that more of the money raised can go towards supporting the agencies' missions. This is a fun event and all funds raised by Wingspan go directly to the people we serve.
We'd love to have you join us September 16, 2017 for the annual Made in the Shade Walk, Run, Roll fundraiser.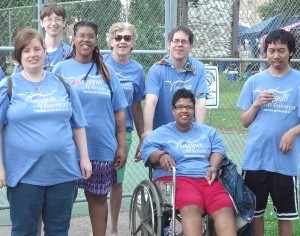 If you can't join us, we hope you'll support Made in The Shade by sending a gift to Wingspan. All proceeds raised by Wingspan directly benefit the people we serve. Each Wingspan home decides how to use the funds they've raised. Some of the items purchased last year include Wii Fit equipment, patio and lawn furniture, special dinners, furniture, and help with vacation funding.
To give now, simply choose the "Donate" button on the right side of this page and then choose the Made in the Shade project.
For more information contact Darolyn Gray at 651-646-3846 Ext. 246 or use our contact form.
Made in the Shade Sponsorship 2017
Redwood Sponsors - $2,500 - $4,999
In Loving Memory of Robert James
Mooney Family
Oak Sponsors - $1,000 - $2,499
Landreville Family


The Horberg Family

 Split with Wingspan, Ally People Solutions and The Phoenix Residence
Maple Sponsors - $500 - $999
John and Jan Thames Family
Sharron and Shannon Aken
United Health
Geritom Medical
Pine Sponsors - $250 - $499
Therese Davis, Executive Director
LeRoy and Darlene Bergerson
Hamer Family
Patricia Lasley
David and Jessica Widdifield
Nick and Peggy Rolfes
Heather Zerull
Curt Windingstad
Mary Beth Stearns
Darolyn Gray & Carolee Lindsey