Color Us Amazing
Meet Michelle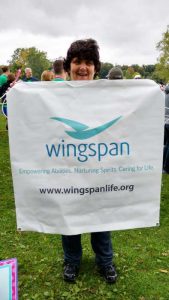 Michelle is a resident of Sheridan House. If you look up the definition of "Go Getter" in the dictionary, you might very well find Michelle's picture!
Michelle leads a full and busy life, yet she finds time to raise funds for her house during the annual Made in the Shade campaign. She is consistently a campaign leader, and has already raised more than $800 this year.  She begins her campaigning early in the year and encourages her friends in other houses to do the same. Michelle is a wonderful ambassador. She approaches friends, neighbors, people at work, friends from church, and even people at her local baseball field. This year, she is raising funds for new dining room furniture for the house and toward new cupboards. She approaches potential donors in every aspect of her life with thoughtfulness, courtesy, and professionalism. Whether someone donates $1.00 or $100.00, Michelle is certain to let each donor know they are appreciated. If someone is unable to donate, she smiles and thanks them for listening anyway. She has many repeat donors who welcome her visit each year.  Michelle keeps meticulous records and contacts the Wingspan Development Office each time she receives a new donation.  The pledge forms are carefully completed and promptly turned in so that donors can receive thank you receipts in a timely manner. She takes great pride in her efforts and always has a goal in mind–a goal that is always exceeded.
Michelle has been an active member in Wingspan's Glee Club for many years. She is an enthusiastic leader and offers praise to her fellow Glee Club singers. She also enjoys going to karaoke night at the VFW and visiting with friends on weekends. Michelle goes to day program at Opportunity Partners and works at Arby's. She enjoys basketball ("Go Lynx!"), and is active in Special Olympics and in her church. She has been a greeter at Wingspan's annual Power of Love gala, and never hesitates to offer to help at any Wingspan event.
Michelle enjoys coming to Made in the Shade every year and likes to help carry Wingspan's banner as she walks with her friends. We thank Michelle for her enthusiasm and boundless energy, and for being a great champion for people with disabilities and for Made in the Shade!